blox N95 (part BLX-9501, medical use)
$12.50
$59.95
saving
$47.45
| /
blox N95 (part BLX-9501, medical use)
$12.50
$59.95
saving
$47.45
| /
Best Masks Ever
At Benjamin House, in Elizabeth City, NC, we think your masks are the best masks anywhere! They are comfortable and very effective!!!
Very nice!
The fit, quantity, size, price etc. are all great. When I called to adjust my order, the service was fantastic and the help was immediate. Thank you 👍
Comfortable, Affordable N95s
These masks are my favorite. They are pretty comfortable, with quite a bit of "breathing space". They have no odor right out of the box. Though most people are no longer wearing masks/taking covid precautions, those of us with compromised immune systems still need to protect ourselves. Thanks for make a comfortable, affordable mask for me to wear and feel safe in public spaces.
these are so much better than the N95s I was using before -- softer, easier to wear for long periods of time, better fitted -- that I'm retroactively mad at the ones I bought in 2020. so glad to have these going forward, particularly knowing that I can trust they're good-quality products.
Comfortable masks
This brand was recommended by a friend. Great for all day wear. The only issue I had was the straps were a bit shorter than I expected, so not made for those with larger heads.
Fits my face much better than the KN95s I was using before. Feels like a good tight seal and doesn't hurt my ears very much at all. Super comfortable, as far as masks go.
Very comfortable for fuller lips
If you have full lips and find other masks uncomfortable because they rub against your mouth, this mask is for you. It creates an entire empty "space" in front of your mouth that makes it feel like you're not wearing a mask at all. I recently wore this mask on a cross-country plane ride ( 9 hours, including transportation to airport, wait time, etc) with absolutely no problem.
Now I just need an over-ear version. I do prefer behind-the-head straps, but I want to get a haircut while protected!
Great masks
I love these masks. They fit well and seal well. They are also very breathable. I can go into a store wearing one, leave the store and walk back to my car and forget to remove the mask. I highly recommend these. I'm one of the few people I know that haven't had covid yet.
Best Fit and Quality
The duckbill is the way to go! It's comfortable, doesn't fog up glasses, very breathable, and makes a seal on my small face that I can't get with other masks. I keep a box in my car now so I always have one when I need it. Been wearing these masks for over a year and trust their effectiveness. I won't buy any others. Thank you, Blox.
Keeping safe
Great product to protect my family.
Features
Multi-layer protection provides
full coverage with an electrostatic filter.
The 'charged' meltblown layer provides at least 99% filtration efficiency of 0.1-micron aerosolized saline particles.
Designed with double head straps and a flexible nosepiece for optimal seal and all-day comfort.
Our leading consumer-grade straps provide 0.8 to 1.25lbs of force to maintain an adequate seal.
It's time for a better
high-filtration respirator.
✓ No more counterfeits
✓ No more annoying readjusting
✓ No more difficulty breathing
✓ No more glasses/goggles fogging up
✓ No more subpar filtering efficiency
Donning Instructions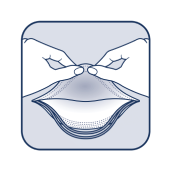 Separate the edges of the respirator to fully open it. Slightly bend the nosepiece to form a curve.
Using your index fingers and thumbs, separate both headbands.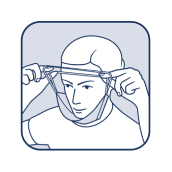 Continue holding the headbands and cup the respirator under your chin with the nosepiece facing upwards.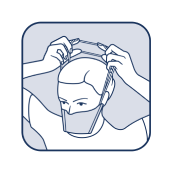 Pull the headbands over your head and let them rest at the base of your neck, below your ears.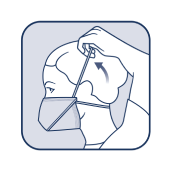 Position the top headband to rest at the crown of your head, above your ears.
Using both hands, firmly press down to form the nosepiece to the bridge of your nose and below the eyes. Adjust to secure all edges and perform a seal check.
✔

Performing a seal check:

It is necessary to perform a seal check prior to each time of use. To check the respirator seal, cup the respirator with both hands, breathe in forcefully. You should feel pressure inside the respirator. If you feel any air leakage on an inhale or exhale, adjust the nosepiece and headbands until you feel a secure fit with no air leakage. Repeat the seal check again to confirm proper fit. DO NOT enter a contaminated area if a proper seal cannot be obtained.